Harold the Helicopter
No little boy's Christmas list would be complete with a Thomas the Tank Engine toy. One of the latest additions to the fabulous collection of vehicles is talking Harold. The magical story of Thomas and his friends can continue with even more exciting adventures and explorations with the help of Harold the search and rescue helicopter.
No Longer Available.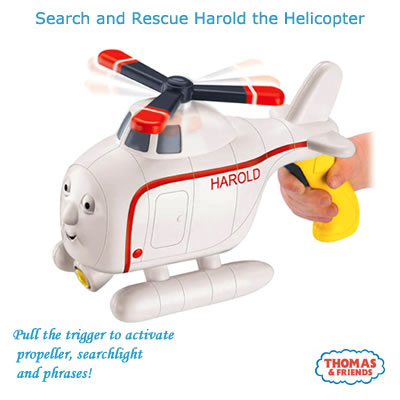 New Robust Colourful Vehicles
Let your bright and colourful collection grow and grow with your favourite friends and action heroes. Harold will be right there to help when there is trouble on the road and rails. Patrolling the skies above the island Harold helps people and the engines for the most thrilling escapades. This good-hearted helicopter's nickname is "Whirlybird" and he is a really useful engine to have in the sky. Having a friendly rescue helicopter on hand and all the fun engine characters including a few cheeky ones make life on Sodor all the more special.
Thomas & Friends Playsets
Searchlights and Sound
Harold is no ordinary chap, he is a special part of the adventures of Thomas & Friends. Hear him in action with fun search and rescue phrases as he zooms around with propellers spinning and searchlights on! The easy to grip handle has a trigger that activates the lights and sound for hours of rescue missions to save the day. Features include unique phrases from the Thomas & Friends series. See more preschool toys and playsets>>.
Thomas & Friends DVD & Story Books
Watch all the live-action and best scenes in the latest collection of Thomas & Friends DVDs. Take a break from your own adventures and watch your favourite characters and their exciting journeys. DVDs and storybooks bring to life the wonderful world of Sodor with the colourful engines you love to play with. It's full steam ahead for you, Thomas & Friends as you join in the fun and learn the importance of friendship, fair play and teamwork.