Let's Cook Range


Girl Gourmet Let's Cook Range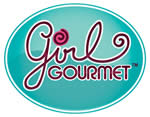 The Let's Cook range did really well for Character Options last year with the Girl Gourmet Cup Cake Maker winning the 2008 Creative Toy of the Year award.
This year looks set to be promising too with the release of a new product line up across various categories in the Arts and Crafts range of Toys
Sticking with the successful Girl Gourmet range in the creative section there are two more additions for 2009 that should prove just as popular. There is the Ice Cream Maker and the Fruit Factory.
So for girls who like to bake and whizz up a tasty dessert the Let's Cook range is just the thing.
---
Fruit Factory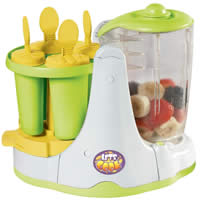 This is a fun and enjoyable way for kids to learn about and get work towards their 5 portions a day of fruit and veg and the habit of a healthy lifestyle all at the same time. Being in charge lets them experiment with different fruits in fruit drinks, lollies and smoothies while getting healthier in the process; which can only be good news for parents.
The Let's Cook Fruit Factory has a choice of 3 ways to process the fruit with an easy-to-use blender. Safe to use and suitable for ages 5 years and over, this blender is going to be a favourite with girls but is sure to catch the interest of boys on the lookout for a free fruit lolly.
Fruit Blender
Fruit can be blended to turn into delicious juices, shakes, sorbet slushies and smoothies or simply poured into the special lolly cases and put into the freezer. It also includes a mould for making four lollypops, glass and mixing stick plus a recipe booklet.
The Gourmet range is an excellent way for children to develop an interest in cooking and healthy eating.
Features
Choice of Recipes
Easy to use blender
Make your own lollies, sorbet slushies, shakes and smoothies
Includes mould to make 4 lollies
Mixing stick and glass
Recipe booklet
Suitable for ages 5 years +
Requires batteries
---
Let's Cook Ice Cream Maker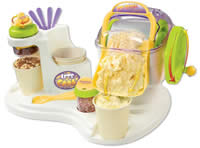 Children will love the idea of making yummy ice cream with their very own ice cream parlour. This brightly coloured machine comes with cups and spoons so they can make a good supply to keep friends and family happy.
The ice cream maker gets kids involved in cookery and brings out their creative side as they whip up wonderful icy treats. Simple instructions show how they can make fabulous desserts with their own ingredients and it's up to them how much they make.
The recommended age is 8 years upwards and suits children with a passion for ice cream especially making their own. The drum has to be filled with ice, hot water and salt then the ingredients poured into the ice cream maker. The handle is then turned to make delicious ice cream.
Features
Suitable for ages 8 years+
Instructions
Ice Cream Maker Mixture
Add your own ingredients
4 ice cream cups and spoons
1 scoop
Sprinkler and topping pot
Encourages interest in cookery
---
Girl Gourmet Range
There'll be no stopping girl gourmet chefs once they see the rest of the Let's Cook Range so best make sure there is plenty of room in the kitchen for all those extra appliances. Girl's can impress their friends with their tasty triumphs in the kitchen.
Lets Cook Smoothie Maker:
Everyone loves a scrummy smoothie; now girl's can try their hand at blending their own fantastic drinks. The Milkshake and Smoothie Maker includes a smoothie maker and mixing stick. Suitable for ages 5 +
Fondant Cake maker:
For older children who have bigger plans in the kitchen then the Girl Gourmet Cake Bakery cake maker is a must. This cake maker comes with all you need to create mouth-watering fondant treats and tools to decorate them with. Included with the bakery unit are utensils, rolling pin, microwave baker, cake mould, and tube of white icing, rainbow sprinkles 4 colour fondant mixes, recipe cards with full instructions and more! Recommended age 8+
Lets Cook Sweet Candy Bead Studio
Children and sweets have always had a good relationship so this candy maker with special edible beads is sure to go down well. Girls can design their own bead jewellery from an array of different coloured candy and then eat them afterwards! Make it! Wear it! Eat it! Sweet Candy Bead Studio brings out the creative side of children while being fun too.
The Girl Gourmet Bead Studio includes white decorator icing. 2 markers with edible ink, various coloured candy in different styles and shapes, full instructions and more. Suitable for 4-year-olds +  Girl Gourmet Candy Bead Studio Refills also available.
Candy Ring Maker
Another one for the young girls where what they make they can eat after! Young designers can fashion their own rings and create a sweet boutique full of edible decorated rings. Once they tire of their creations they can enjoy eating what they have made. Included are full instructions, 1 candy ring maker, spatula, 3 ring bases and covers plus so much more for the sweetest rings ever. For ages 4 years and over
Sweets Sprinkle Art Jewellery
Continuing with the Make it! Wear it! Eat it!  theme this edible jewellery design kit allows girls to make fashionable pieces of jewellery that can be worn than eaten. The Sprinkle Art Jewellery Set comes with full instructions and all you need to make fab necklaces and bracelets
Refills are available in the following Girl Gourmet ranges so girls can continue to create wonderful treats.
The Girl Gourmet Cup Cake Maker Deluxe Refills
Cup Cake Maker Refills
Candy Maker Refills
Bead Studio Refill
Basic Refill-Chocolate Chip
Fondant Maker Refill-Chocolate
Fondant Cake Maker Basic Refill-Confetti
Cake Maker Basic Refill-Vanilla