HD Ready TV with Built-in Freeview /DVD Player
Girls who love Hello Kitty can add to their collection of adorable themed toys with this compact LCD TV. At just 15" makes it the perfect size for a girls bedroom, the small screen television is an HD Ready and comes with Freeview. Having Freeview built-in gives a great choice of channels to keep them entertained. There is also an integrated DVD player if the girls want their own cinema night in with popcorn and a movie.
No longer available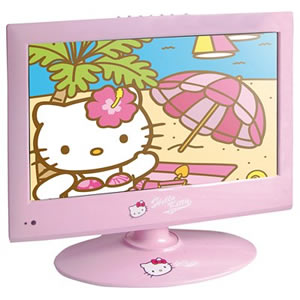 Girls Small Pink TV with Stand
Just like the grown-ups a buying bedroom TV allows you to watch your own programmes when you want. Girls too can relax in the bedroom with friends watching their favourite shows and DVDs. The dinky TV set comes with a ready assembled stand for easy positioning to get the best viewing experience. Fun Hello Kitty stickers are also included to decorate the new telly.
Hello Kitty TV Details
15 inch HD Ready widescreen
2 x Scart sockets
1 x HDMI
AV inputs
USB inputs
1366 x 768 screen resolution
Suitable for 3 years and up
Tabletop stand included
Connectivity for Other Devices
The Hello Kitty LCD TV has inputs to hook up to other digital equipment. You'll find one HDMI, a USB port and AV input for connecting to other machines such as a DVD player. Other products from the Hello Kitty brand includes a portable DVD player. Although this will only play DVDs and not TV as well it still is a great present because it's is easy to carry around. Girls can enjoy watching films and cartoons wherever they are. The portable DVD player is great on long car journeys and holidays and the in-car charger means no batteries are required.