The huge range of arts and crafts toys can bring out the creative side of children allowing them to express themselves through drawing and painting. Plenty of messy fun can be had with easels, paints and pens in addition to the variety of craft packs that will keep them busy for hours.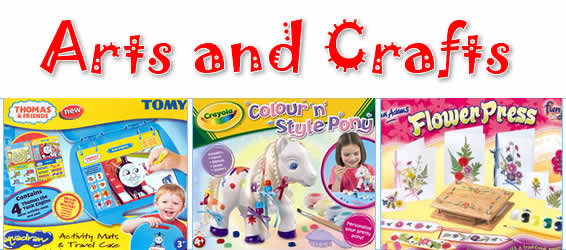 ---
There are plenty of creative toys and gifts out there to fire the imagination here is a guide of the benefits and top toys to look out for.
Aquadraw
The introduction of Aquadraw products was a welcome relief to many parents with budding artists on their hands; at last the no mess creative play had arrived. Rainbow Aquadraw is perfect for toddlers from as young as 18 months and over.
Creative Toys and Craft Kits
This fantastic idea allows them to create no-mess colourful pictures with the special Aquadraw pen, paintbrush and stampers. The rainbow of colours will magically disappear so they can draw new scenes over and over again. The colourful mat comes with 3 accessories and a promise of endless fun.
Moon Sand
The latest craze to hit our shores is the innovative Moon Sand; the clean and mouldable sand that never dries out. Kids love a day at the seaside so what better way to keep those little faces smiling than with their own indoor beach!
Moon Sand doesn't dry out so no water is needed to make sand castles etc best of all it can be used again and again for sculpting and moulding endless creations. The exciting range of Moon Sand includes every little girl's favourite the "Princess Castle" with all its glitter and sparkle. This comes with 6 moulds, 2 shades of sand, purple sand with glitter, a digging tool and an inflatable playmate/storage bag.
Adventure Island
For animal lovers "Adventure Island" has special moulds to create a giraffe, monkey, elephant and alligator plus people, huts and palm trees. There are 3 colours of Moon Sand and a 2 sided play area. Recommended ages for Moon Sand is 3 years and over. These fun play sets won't stain or stick and any accidents can be simply vacuumed up.
Arts and Crafts are one of those toy categories that cater to all ages and make wonderful hobbies. Art sets, card making sets, jigsaws, model kits, painting by numbers, paper craft and needlework/sewing kits are as popular as they ever were. There is something for everyone and great Christmas gift ideas can be found in any Arts and Crafts section of stores.
Card Making Caddy
A Deluxe Card Making Caddy is a good idea for ages 8 and over and is packed with cards and envelopes, stickers, glitter, glue, ribbons etc all you need to make the perfect card. There are Pencil Caddies, Portable Art Chests, a Jigroll for storing jigsaws, brush sets and more.